General Information
The beautiful and world renowned town of El Nido is a municipality in the Northwest part of Palawan, 238 km Northeast of Puerto Princesa. Famous for its pristine white sandy beaches, vibrantly colorful coral reefs and the gateway to the Bacuit archipelago, a stunning group of islands with steep, rugged limestone cliffs. The town has a population of 41,606 (2015) inhabitants and it's a main hub for basing any travels further North.
Conde Nast Travelers magazine currently list's El Nido as the 4th nicest beach in the world. I guess they haven't been to Nacpan Beach (close to El Nido) or for that matter Malacapua Island close to Coron and voted by Philippine Tourism Association as the #1 island in the Philippines. Whatever the case may be, the whole Northern Palawan area including Busuanga is jam packed with awe inspiring scenery. For this reason, El Nido has become over commercialized and super saturated with tourists, so much so, that now some travelers literally pass right through El Nido, not even spending one night, for other less crowded and touristy destinations further North or South.
The town itself, is situated in a sheltered bay, surrounded by sheer limestone cliffs on the eastern side and rolling hills on the western side. These limestone cliffs are what gave El Nido it's name, or should we say the cliffs housed the birds that built the nests to lay their eggs. The Nest(s) or in Spanish "El Nido" were a major source of birds eggs (swiftlets) for Nido Soup or Birds Nest soup, a Chinese delicacy . These Chinese explorers were frequenting El Nido as early as the Song Dynasty cerca 960 a.d. and harvesting these eggs in the limestone cliffs.
In the past, Palawan (including El Nido) was quite remote and isolated from the rest of the Philippine Islands. For this reason Palawan and it's surrounding islands are less inhabited than other areas of the Philippines and it had enabled Palawan to conserve its pristine beauty from the rest of the world . all this started to change when a Japanese/Philippine company called 10 Knots Development Company, opened a divers resort on Miniloc Island. Later on in 1992 , they opened an airport (Lio Airport) and the rest, as they say, is history.
With 100's of powdery white sandy beaches, aqua blue waters, towering limestone cliffs, lush mangrove forests, dense tropical jungles, prehistoric caves, spectacular towering waterfalls and vibrantly colorful corals, El Nido is a top tourist attraction in the "Last Frontier" of Palawan. The December 2007 issue of National Geographic Travelers magazine chose Palawan as the best island in the world. It recommended El Nido and the Calamianes Islands (Coron, Culion and Linapacan) as a must do on someone's bucket list.
You can either reach El Nido by air or sea.
Option 1: Airplane
The nearest airport to El Nido's Lio Airport is Puerto Princesa. Flying will always be the quicker option but flights to El Nido can be extremely expensive .
Option 2: Ferry/Boat
El Nido has a sea port that serves ships from Manila Puerto Princesa and other provinces. Ferries are a common travel option as it's the cheapest way, however the trade-off is that, it is much slower. Book your tickets with Green Gecko and remember always reserve your dates far in advance to avoid delays.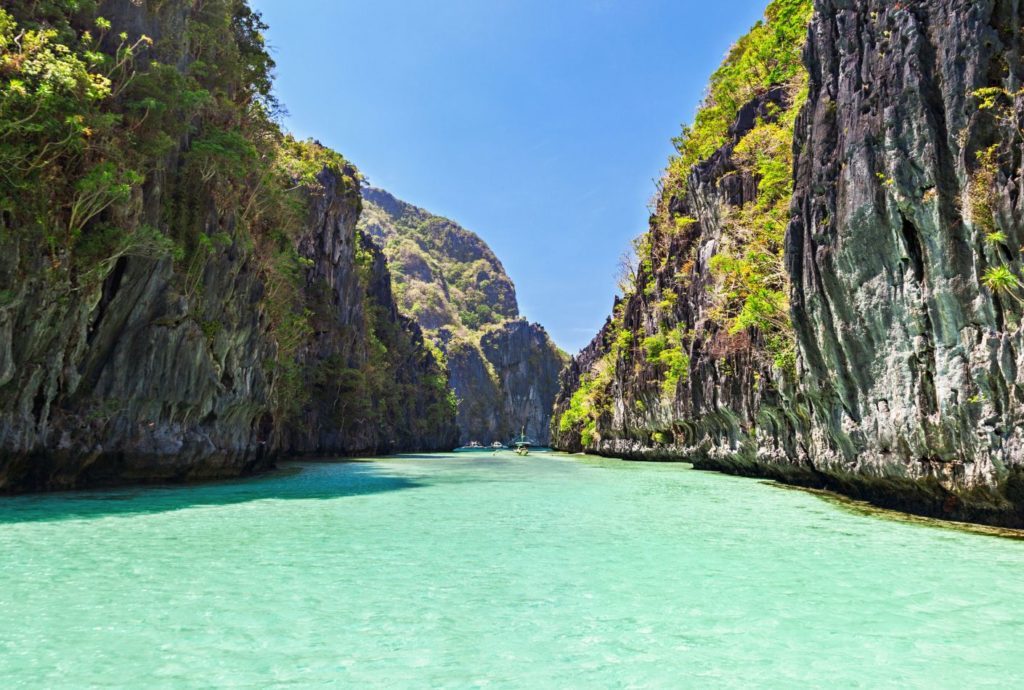 Tour A includes the following destinations:
Small Lagoon
Big Lagoon
Secret Lagoon
Shimizu Island
7 Commando Beach
Tour B includes the following destinations: Snake Island PInagbuyatan Island Entalula Beach Cudugnon Cave Snorkeling Site